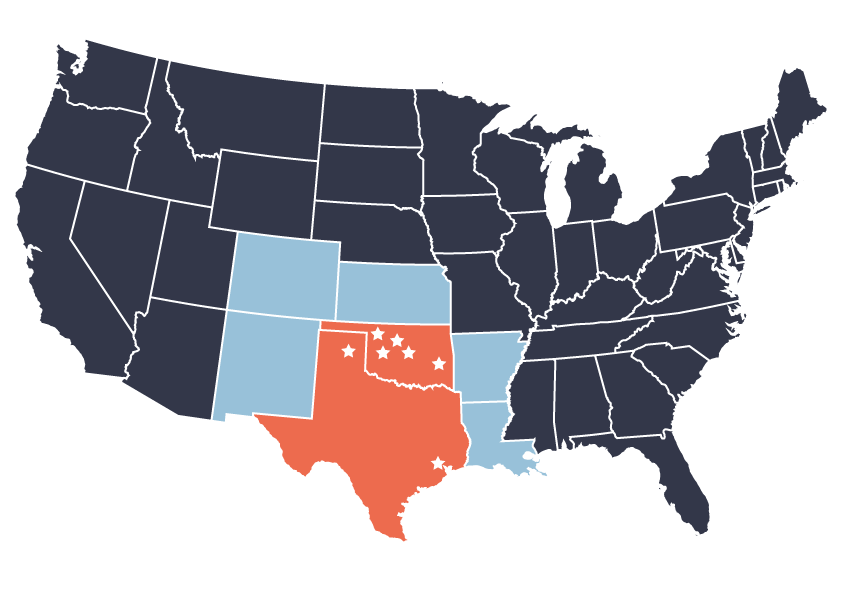 Measurement
We help solve everyday problems with innovative measurement solutions, from the well head to the sales point.
Our experienced technicians provide comprehensive natural gas measurement field services across a large, 7-state region: Texas, Oklahoma, Colorado, Kansas, New Mexico, Arkansas & Louisiana.
Our unmatched expertise allows us to provide a wide range of in-field technical support, skillfully and effectively, for natural gas operators.
Gas Measurement
Electronic Gas Measurement Installation

Electronic Data Collection & Reporting

Calibration of Orifice Meters

Witnessing of Purchaser Calibration Tests

Installation & Maintenance of Measurement Station Equipment, Gas Chromatography, Moisture & H2S Analyzers

Instrument Certification of Pressure Recorders, Gauges & Thermometers (Pressure recorder repairs completed in-shop)

Measurement Consulting

Gas Measurement Schools

Contract Measurement

BLM Compliance

Flow Data & Measurement Station Auditing

Well-site Automation: Installation & Configuration; High Level Shutdown; Wired/Wireless Remote Operation; Telemetry for First Flow; Troubleshooting
Gas Analysis & Lab Services
H2S & CO2

BTU Determination

Third party partnerships in place for extended gas/oil analysis & distillations